Performing an enterprise SEO audit is a crucial step in ensuring the success of your business in the digital world. By thoroughly assessing your website's SEO performance, you can identify areas for improvement, address technical issues, optimize content, and enhance the overall user experience. The information and resources you need to improve the visibility of your website and boost organic traffic will be provided to you in this post as we walk you through the process of completing a thorough enterprise SEO audit for your company.
Search engine optimization (SEO) is essential for establishing your website's exposure and discoverability in today's highly competitive online environment. A comprehensive analysis of your website's technical characteristics, on-page and off-page components, content quality, user experience, and overall SEO performance are all part of an enterprise SEO audit. It provides valuable insights into areas that need attention and optimization to improve your website's rankings on search engine results pages (SERPs).
Why is an SEO Audit Important?
An SEO audit is essential for your company since it reveals areas for development, sheds light on any problems with your website's performance, and helps you make the required adjustments to boost your online visibility. Here are some key reasons why an SEO audit is essential:
1.   Identify Technical Issues: An audit helps uncover technical such as broken links, crawl errors, slow page speed, and mobile responsiveness problems that may hinder search engine crawlers from effectively indexing and ranking your website.
2. Optimize On-Page Elements: By evaluating your website's on-page elements, including meta tags, headers, URLs, and keyword optimization, you can ensure they are properly optimized to enhance visibility and relevancy.
3.   Improve Content Quality: An SEO audit allows you to assess the quality and relevance of your website's content. It helps identify opportunities for improvement, such as thin or duplicate content, keyword stuffing, and content gaps that need to be addressed to engage users and satisfy search engine algorithms.
4.   Enhance User Experience: User experience (UX) is critical to SEO. A smooth and delightful surfing experience may be achieved by analyzing your website's design, layout, navigation, and overall user experience. This will boost user engagement and help you rank higher.
5.   Stay Ahead of Competition: Conducting an SEO audit also involves analyzing your competitors' strategies and performance. This analysis provides valuable insights into their SEO tactics, keywords they are targeting, and backlink profiles. Understanding your competitors' strengths and weaknesses helps you develop strategies to outperform them in search engine rankings.
The Enterprise SEO Audit Process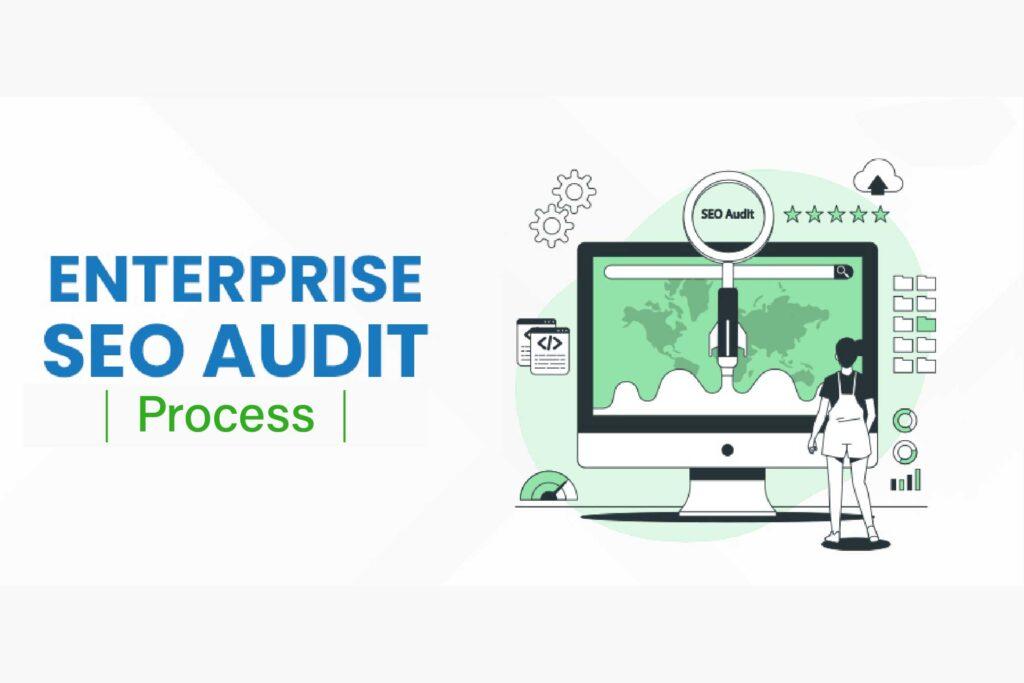 Now that we are aware of how crucial an enterprise SEO audit is let's examine the procedure in detail for performing one for your company:
1. Define Audit Objectives and Goals
Before diving into the enterprise SEO audit process, defining clear objectives and goals is crucial. Identify what you want to achieve through the audit. Is it to improve organic traffic, enhance conversion rates, or address specific technical issues? A clear focus will guide your enterprise SEO audit can help you prioritize your efforts effectively.
2. Keyword Research and Analysis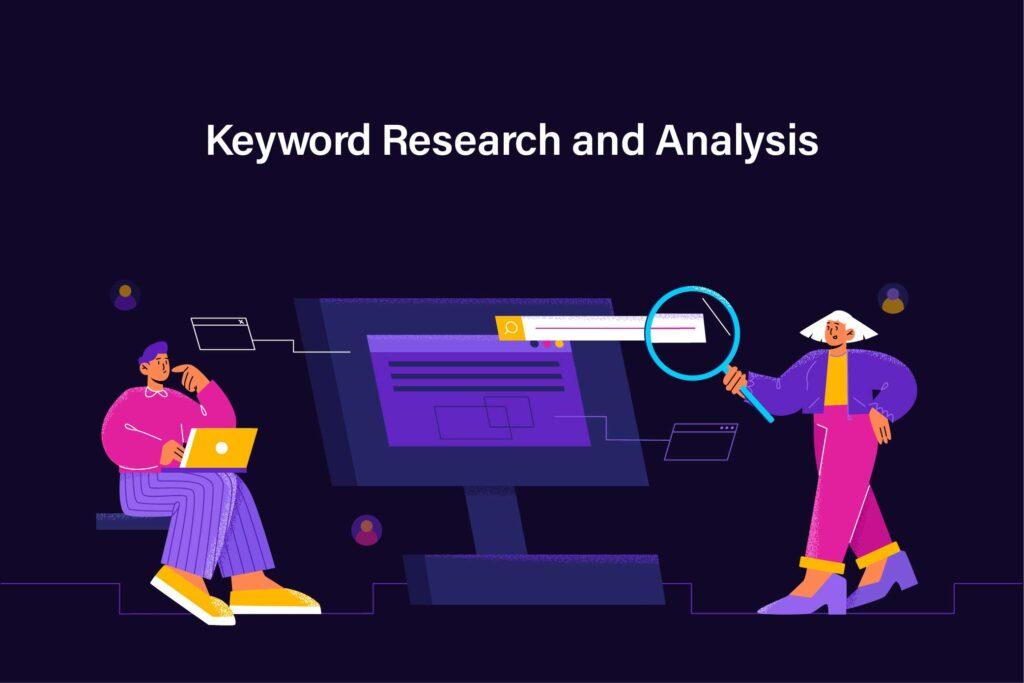 Keyword research is a fundamental aspect of SEO. Find suitable terms that match your company's goals and the people you want to reach with your marketing. Use keyword research tools to determine search volumes and competition levels and identify long-tail keyword opportunities. Analyze your existing keyword strategy and optimize your content accordingly.
3. Technical SEO Analysis
Technical SEO concentrates on your website's technical elements that affect how search engines may see and crawl it. Conduct a thorough technical analysis to identify and address issues such as:
· Broken links and redirects
· XML sitemap and robots.txt file errors
· Page load speed optimization
· Mobile-friendliness and responsive design
· Canonicalization and duplicate content issues
· Structured data markup implementation
Fixing these technical issues ensures that search engine crawlers can efficiently access and index your website, improving rankings and visibility.
4. On-Page SEO Evaluation
Evaluate your website's on-page elements to ensure they are optimized for search engines and user experience. This includes:
· Meta tags (title tags, meta descriptions)
· Header tags (H1, H2, H3)
· URL structure
· Keyword optimization in the content
· Image optimization (file size, alt tags, captions)
· Internal linking structure
· Content formatting (use of bullet points, numbered lists, etc.)
By improving these on-page components, you may improve the relevance of your website and its user and search engine appeal.
5. Content Audit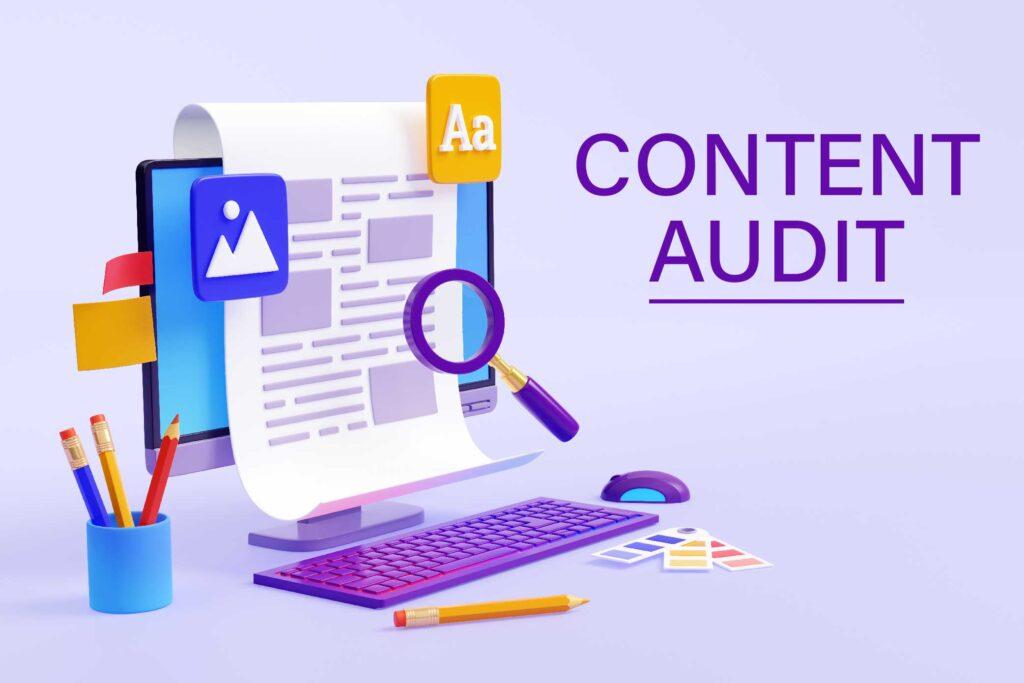 Assess the quality, relevance, and uniqueness of your website's content. Identify areas where content can be improved or expanded to add value to your target audience. Look for opportunities to incorporate relevant keywords naturally and eliminate thin or duplicate content. Ensure your content aligns with user intent and satisfies search engine algorithms.
6. Off-Page SEO Analysis
Off-page SEO refers to factors outside of your website that influences its rankings. Evaluate your backlink profile, including the quantity and quality of backlinks, anchor text distribution, and the relevance of linking domains. Disavow any low-quality or spammy backlinks that may negatively impact your website's SEO performance.
7. Local SEO Assessment (if applicable)
If your business operates locally, perform a local SEO assessment. Optimize your Google My Business listing, ensure consistent NAP (Name, Address, Phone) information across directories, and encourage online reviews from satisfied customers. Local SEO strategies help improve your visibility in local search results, driving more targeted traffic to your business.
8. Website Speed and Performance Analysis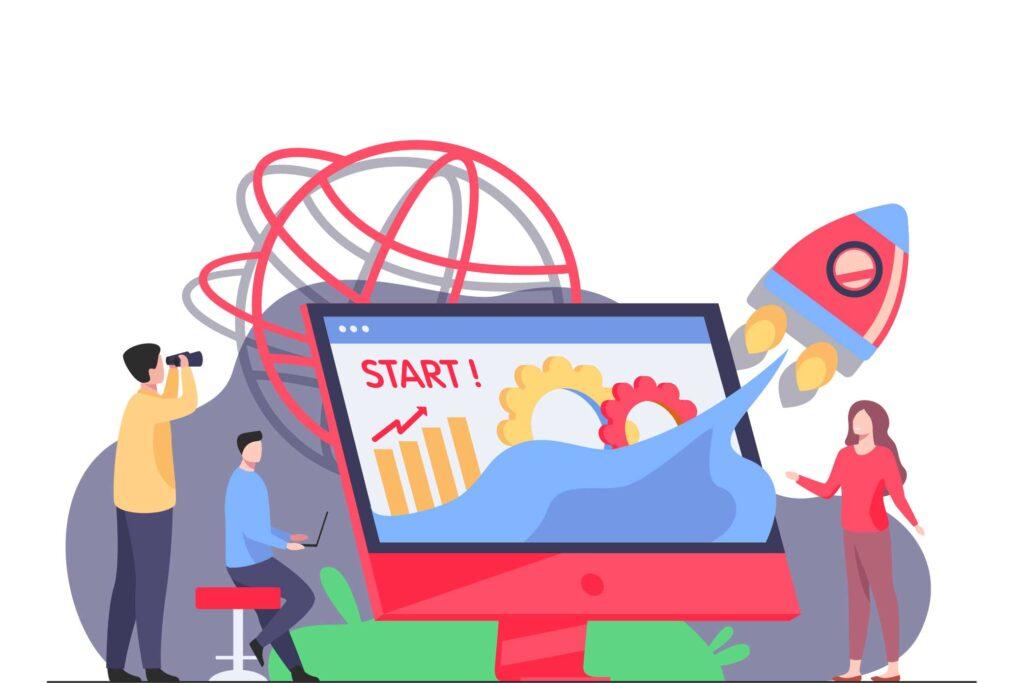 For both user experience and enterprise SEO audit, website speed and performance are essential. Analyze your website's load times, optimize images and multimedia elements, leverage browser caching, and minimize server response time. Websites that load more quickly typically have greater search engine rankings and better user experiences.
9. Mobile-Friendly Evaluation
Given the growing popularity of mobile devices, ensuring your website is mobile-friendly is imperative. Test your website's mobile responsiveness across different devices and screen sizes. Optimize the design and functionality to provide a seamless browsing experience for mobile users.
10. Image Optimization Review
Although images are a crucial component of online content, poorly optimized images can negatively affect the speed of your website. Evaluate your image optimization practices by compressing image files, using appropriate formats, and adding descriptive alt tags. This helps search engines understand your images and improves accessibility for visually impaired users.
11. Website Security Audit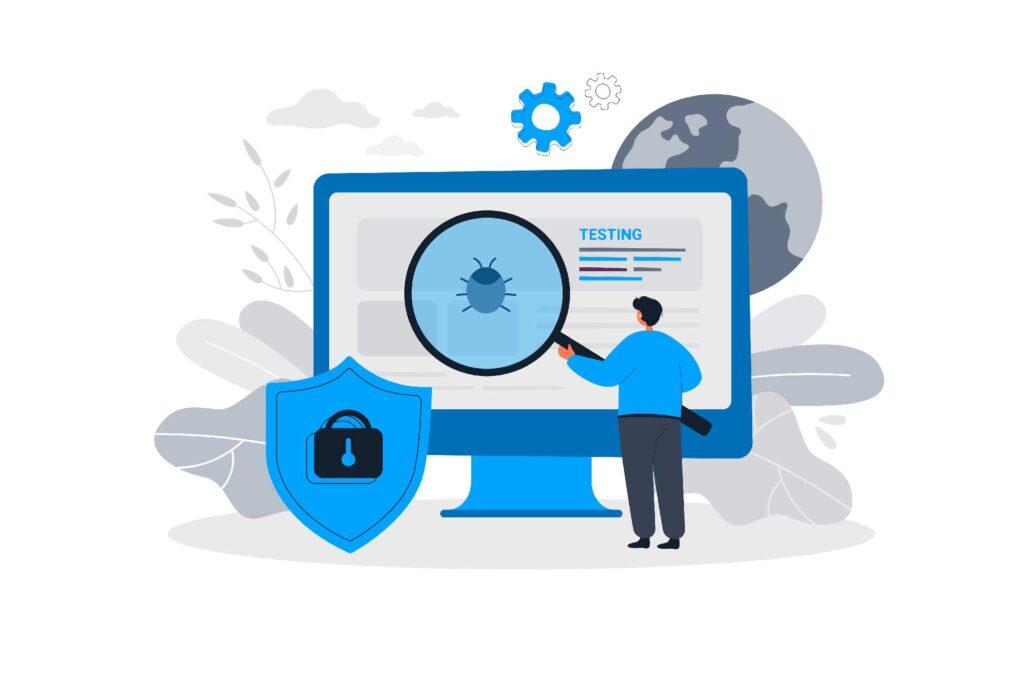 Website security is essential for safeguarding user information and upholding credibility. Perform a thorough security enterprise SEO audit to identify vulnerabilities, malware, or outdated software. Implement SSL encryption and secure passwords, and regularly update your website's plugins and software. Make sure your website is protected so that users may browse it safely.
12. Analytics and Tracking Review
Analyzing data from web analytics tools provides valuable insights into your website's performance. Review your analytics setup, ensuring that tracking codes are properly implemented, and tracking goals are defined. Analyze important metrics like organic traffic, bounce rate, conversion rate, and user engagement. Use this data to make data-driven decisions and optimize your website further.
13. Backlink Quality Analysis
Backlinks are crucial for building authority and improving search engine rankings. Evaluate the quality of your backlinks, focusing on relevancy, authority, and natural link-building practices. Identify opportunities for acquiring high-quality backlinks from reputable websites within your industry.
14. Competitor Analysis
Analyzing your competitors' enterprise SEO audit strategies provides valuable insights and helps you identify areas for improvement. Assess their keyword targeting, content quality, backlink profiles, social media presence, and user engagement strategies. By understanding your competitors' strengths and weaknesses, you can refine your enterprise SEO audit approach to outperform them.
15. Social Media Integration
Evaluate your website's social media is important in enterprise SEO audit integration and presence. Ensure social sharing buttons are present, implement Open Graph tags for better social media visibility, and encourage social engagement with your content. Social signals play a role in search engine rankings and can amplify your online presence.
16. Local Business Listings
If your business operates locally, ensure your information is consistent across local business directories, such as Google My Business, Yelp, and Bing Places. Correct any inconsistencies and optimize your listings with relevant information and keywords. This raises the visibility of your website in local search results.
17. User Experience (UX) Analysis
User experience is crucial for engaging visitors and encouraging conversions. Analyze the layout, navigation, and user experience of your website. Enhance page layout, navigation, readability, and user experience by streamlining all of these aspects of your website.
18. Content Marketing Strategy Assessment
Examine your content marketing strategy, paying attention to the content forms you produce (blog posts, videos, infographics, etc.) and how well they fit your target audience. Identify opportunities for creating valuable content that attracts and engages users, driving organic traffic and backlinks.
19. Mobile App Optimization (if applicable)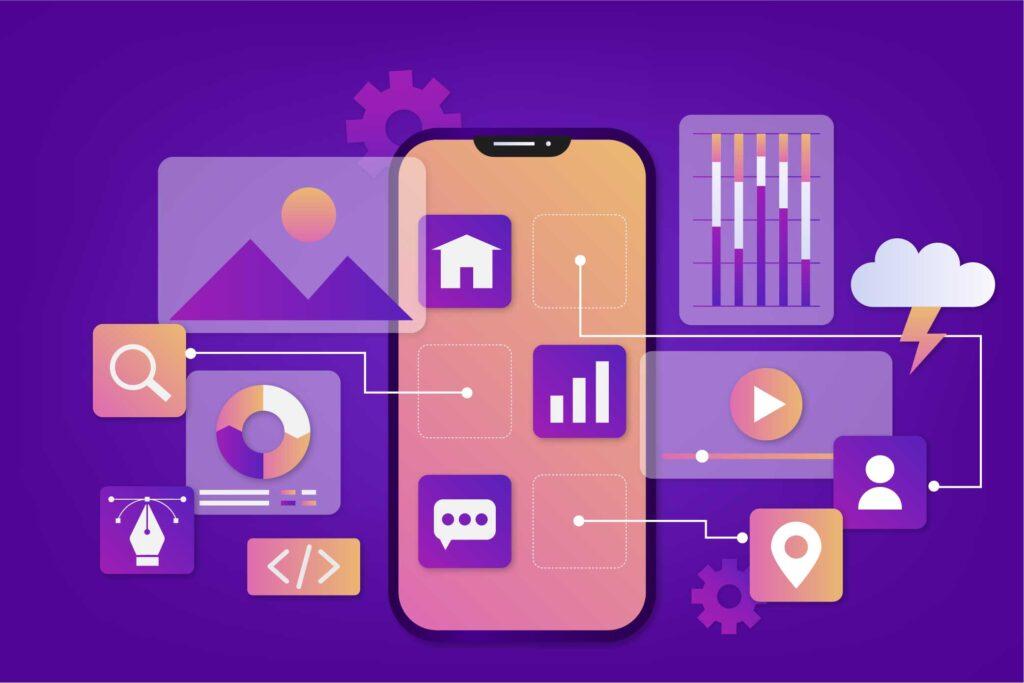 In enterprise SEO audit Optimize the exposure of your company's mobile apps in app stores if you have any. Perform keyword research to target relevant app store search queries. Optimize your app's title, description, screenshots, and ratings to improve its discoverability and encourage downloads.
20. Local Citation Analysis (if applicable)
For local businesses, analyze your online citations (mentions of your business's NAP information) across directories and review sites. Ensure consistent and accurate NAP information and fix any incorrect or outdated citations. Consistent citations help search engines understand your business's location and improve local search rankings.
21. Link Building Strategy Review
Evaluate your link-building strategy and ensure it adheres to best practices. Ensure that your backlink strategy focuses on obtaining high-quality connections from reliable websites in your sector. Develop a diverse link profile that includes a variety of anchor text, link types (editorial, guest blogging, resource pages), and natural link-building methods.
22. SEO Reporting and Analysis
Develop a comprehensive enterprise SEO audit reporting system to track the progress and effectiveness of your optimization efforts. Set up regular reporting intervals to analyze key metrics, track keyword rankings, and monitor traffic and conversion trends. Use this data to make informed decisions and continually optimize your website's performance.
23. Local Reputation Management (if applicable)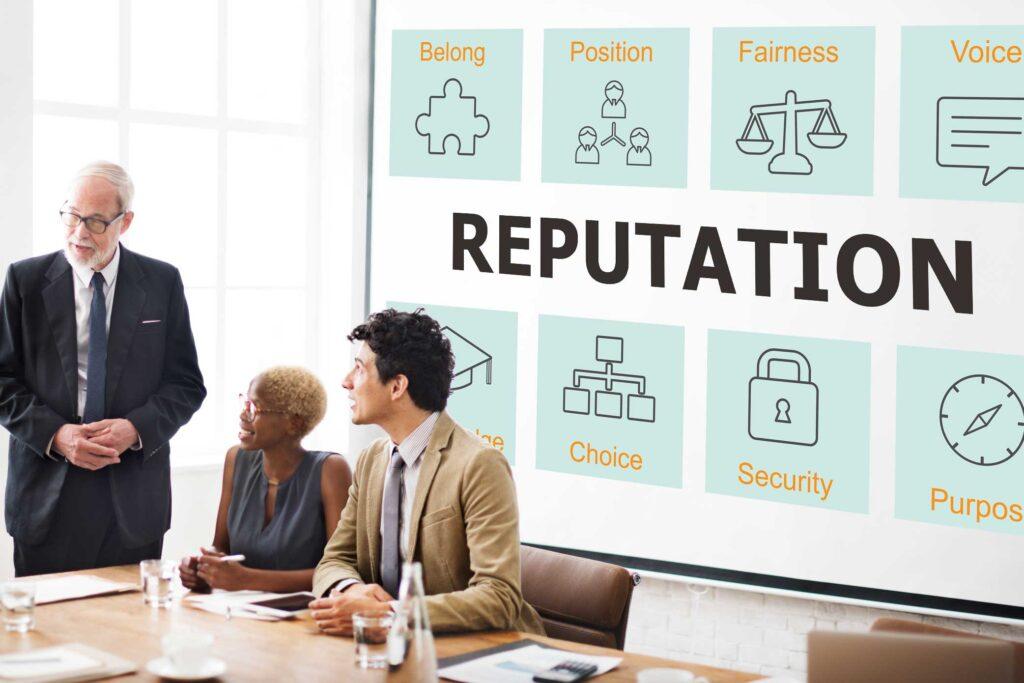 Manage your online reputation by monitoring and responding to reviews on platforms like Google My Business, Yelp, and social media. Encourage happy customers to submit reviews and respond to any bad comments immediately. A positive online reputation contributes to higher search rankings and builds trust with potential customers.
24. SEO and Content Performance Tracking
Continuously monitor the performance of your optimized content and enterprise SEO audit strategies. Use web analytics tools to track keyword rankings, organic traffic, conversions, and user engagement metrics. Analyze the results and make necessary adjustments to improve your website's visibility and performance.
25. Ongoing SEO Maintenance and Optimization
Remember that enterprise SEO audit  is an ongoing process. Regularly review your website's performance, track industry trends, and stay updated with search engine algorithm changes. Keep refining and optimizing your enterprise SEO audit strategies to maintain and improve your website's rankings and visibility.
Conclusion
Performing an enterprise SEO audit is crucial in optimizing your website's performance and enhancing your online presence. By employing the step-by-step procedure described in this article, you may pinpoint potential improvement areas, deal with technical problems, optimize content, and improve user experience. Regularly conducting enterprise SEO audit and implementing the recommended changes will help your business stay competitive in the digital landscape, attract organic traffic, and achieve higher search engine rankings.